INT International Achieve ISO 9001 accreditation
Taipei, Taiwan | March 15, 2013.
I.N.T. International achieve prestigious quality management standard, ISO 9001 certification.
I.N.T. are pleased to announce that following an assessment by an independent organization, I.N.T. International Inc. has been successful in achieving ISO (International Organisation for Standardisation) 9001 certification. This internationally recognised prestigious award for quality management is an international standard in use worldwide as a benchmark for quality.
The ISO 9001 award recognised I.N.T. International commitment to an exceptional quality of service. I.N.T. International are now at the forefront of quality service and customer care.
I.N.T. International Managing Director, Tony Tsai, is delighted to have achieved such an important certification, "We have always been proud of the excellent level of service we offer our clients. Now with the award of ISO 9001:2008 this has been confirmed by outside experts who are used to judging service of a daily basis in a wide variety of trades and industries. We are delighted that our quality management systems and service have stood up to international recognised standards."
We intend to work hard to maintain this certification and endeavour to achieve further ISO 9001 accreditations.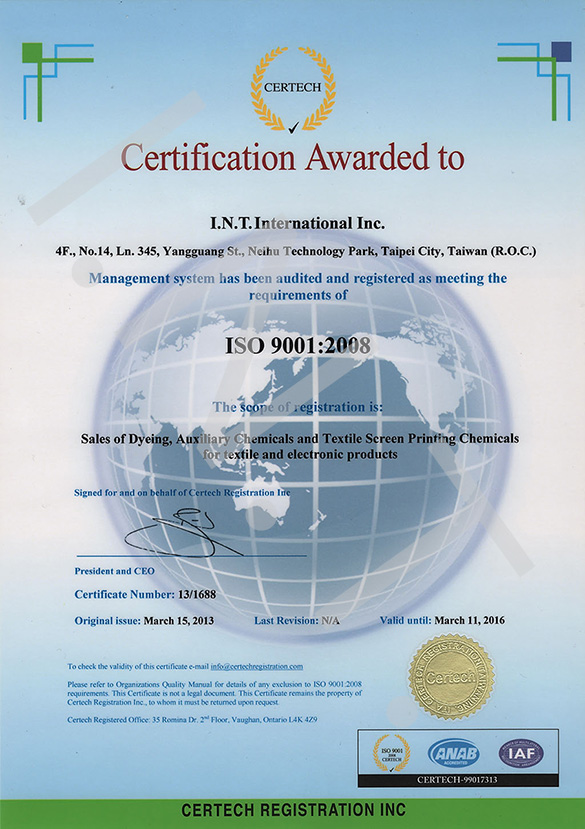 ...